Atelier Artistique du Béton (AAB) specializes in the design, creation and construction of permanent decors for companies and institutions in the tourism and amusement sector. Recreating the Lascaux Cave, travelling through history at the Puy du Fou leisure park and restoring a familiar environment for the Trocadéro sharks are all among the challenges AAB has worked on since 1989.
Our values: Exceptionnel, Customized, Quality and Adaptability
Our team of specialists is stimulated by the major challenges that it has already faced, motivated by the idea of exceptional new projects to be carried out and boosted by the prospect of new techniques to be explored.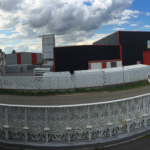 Every request that we receive is examined meticulously, so as to design a project to correspond as closely as possible to your needs. AAB assists you throughout the definition of your concept and helps you find technical solutions to implement it.
The construction phase is the final stage of your project. AAB stands out for its rigorous management of each project, the systematic search for the most appropriate solutions to the various project requirements, and its uncompromising approach to project quality.
Our clients
All this expertise, tested over time worldwide, accounts for the diversity of AAB's project experience, of which it is proud: from zoos (e.g. Lisbon, Beauval, Hanover) to aquariums (e.g. Dubai, Istanbul), and amusement parks (e.g. Europa Park, Astérix) and shopping malls.
We are also proud to have contributed to the restoration of remarkable places forming part of France's cultural heritage, such as the Paris Natural History Museum, Buttes Chaumont Park and production work for the Chauvet – Pont d'Arc Cave.
On the back of our recognized experience in the field of ultra-high-performance fibre-reinforced concrete (UHPFRC), we at AAB have also conceived unusual structures produced for Bordeaux Railway Station, for Jules Verne Square in Marseille and for the Memorial of Notre-Dame-de-Lorette near Lens.